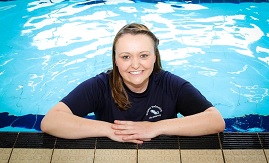 Hi I'm Charlotte ……  together with my husband Rich we own Dolphin Swimming Academy. I've always loved swimming and have fond memories of the fun I had learning to swim as a child. I've never forgotten Ellen, my swimming teacher who has been a real inspiration to me.
I am a fully qualified ASA level 2 swimming teacher, lifeguard and parent & toddler swimming teacher and love working with the children and seeing them progress week after week – I can honestly say I have the best job in the world!
As a family we love going swimming together and just like me, our little girl is a real water baby. When we aren't having fun in the pool we are on the ice enjoying our ice skating lessons – another sport we enjoy as a family.
I'm always available to help in any way I can and my aim is to make your child's swimming journey to be as fun and rewarding as possible.
---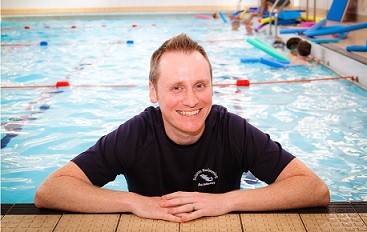 Hi I'm Richard …… together with my wife Charlotte we own Dolphin Swimming Academy. I have always loved sport and feel so lucky to have a career working in something I am so passionate about. I am a fully qualified ASA level 2 swimming teacher and lifeguard and my background is in Health & Safety & Auditing.
I am a big kid at heart and enjoy the interaction with the children whether I am in the pool teaching or pool managing. It is really important to me to make everyone feel welcome, especially the children, as it can be quite scary starting swimming lessons and our aim is for children to learn and gain confidence whilst having fun!
I love spending time with my family which is one of the reasons we set up Dolphin Swimming Academy.
---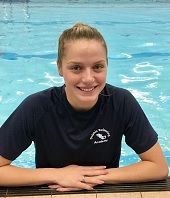 Hi I'm Danielle ……  Swimming is a huge part of my life and has been from the very start. I loved my "learn to swim" lessons so much that upon completion I joined a competitive club straight away! From there my love for the sport just grew and I continued to compete for 16 years, with having the honour to represent Wales at two Commonwealth Games during my career.
I absolutely love working with children and am currently training to be a primary school teacher. I am an ASA Level 2 swimming instructor and having the opportunity to join my two passions together to teach swimming is an absolute pleasure. It's the best feeling ever seeing a child progress week by week and enjoying the sport that I fell in love with.
---
Hi Im Elle …….. Ive had lots of swimming experience including swimming for Bridgend County and Neath Swim Squad and achieving up to

performance level. During my time in the squads ive competed in numerous competitions and gained many medals – Bronze, Silver & Gold.
Last year I passed ASA Level 1 Teaching Aquatics and Lifeguarding courses and am aiming for Level 2 Swimming Teachers qualification in the near future. I have always loved swimming which is why im always eager to help and support others to achieve the goals they want whilst making sure it's an enjoyable experience for all.
---
Hi I'm Gareth ……  I am a fully qualified ASA level 2 swimming teacher and Lifeguard. I never, ever thought I'd find a job that I'd enjoy so much as being a swimming teacher, I love seeing the children improving and enjoying their lessons!
On a personal note I love all sports and in my spare time I coach my sons football team AFC Whitchurch.
---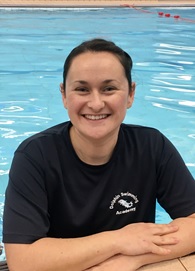 Hi I'm Hannah ……  I qualified as a swimming instructor 14 years ago and I have recently returned to teaching after having a break to have my children.
Now as a mum myself I see learning to swim as being an even more important life skill and am now more passionate than ever about the job I do and the responsibility that comes along with it. I feel so proud to see the pupils improving and progressing onto the next levels.
In my spare time I love spending time with my family and I have enrolled on a course to learn how to sew, which I thoroughly enjoy.
---
Hi I'm Gareth …… I qualified as a swimming teacher last year and have previously worked as a lifeguard, both here in the UK and at a summer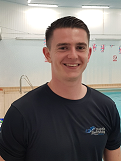 camp in the US.  I have been swimming all my life and spent a number of years with the Heads of the Valleys swimming club.
I have plenty of experience working with children from years of ski instruction and leading activities at summer camp.  I see the opportunity to teach with Dolphin Swimming as another chance to do what I enjoy and impact the lives of children in a positive way!
In my spare time, I'm usually at the gym, reading, or out watching football with my friends!
---
Hi I'm Rich Brady…. I am an ASA Level 2 qualified swimming teacher and I love helping young swimmers to improve their technique.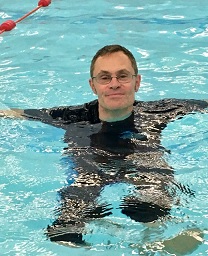 I am a qualified British Triathlon Level 3 triathlon coach and have coached all levels of athlete from the complete novice to Olympian. I run Tri-Monkeys, training athletes at all levels from beginners to medal winning athletes. I have been competing in triathlons since 1991 and has been fortunate to race across the globe in various events from super sprint to Ironman.
My goal is to get the very best out of every one I work with and to help them enjoy their swimming journey.
---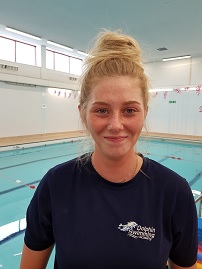 Hi I'm Shannon  ……  I've always enjoyed participating in a variety of sports but I loved to swim from a young age as my swimming instructor had a massive impact on my enjoyment of swimming. She made every lesson fun and this is why I've become a fully qualified ASA Level 2 swimming instructor to give the same experience to others using both the English and Welsh language. There is nothing better than seeing the children enjoying their lessons while improving every week.
In my spare time I love going running with my dog Ozzy and spending time with my family and friends. 
---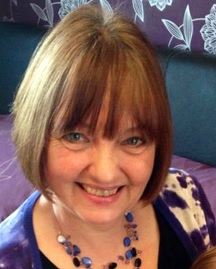 Hi I'm Cindy …… I'm Charlotte's mum. After 20 years of working in schools in a variety of roles, I recently trained as a level 1 swimming teacher and lifeguard and you will see me at the pool from time to time when I'm helping out. I am constantly amazed by the progress the children make, I have seen one little girl go from being absolutely terrified of the water to swimming completely unaided in just a short time, the smile on her face was priceless!
I didn't learn to swim until I was an adult and looking back I feel I missed out on so much fun as a child, but once I started there was no stopping me – I got the bug and now swim at least 3 times a week.
In my spare time, I enjoy fundraising for charity and doing agility classes with my rescue dog. I love spending time with my granddaughter; swimming, cooking, sewing, and learning the Welsh Language together!
---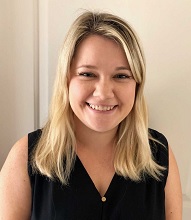 Hi, I'm Cherry…… and I help out with the admin work at Dolphin Swim Academy.
I learned to swim from a young age and understand not just the importance but the fantastic fun that swimming provides, especially when my family and I go on holidays.
One of my children is learning to swim with Dolphin Swim academy so I know the lessons are great from a parents point of view and when my youngest child is ready to learn I know where to send them.  As a family we enjoy watching and playing football, walks to the park and of course swimming. You can even catch us enjoying train rides and riding scooters!
---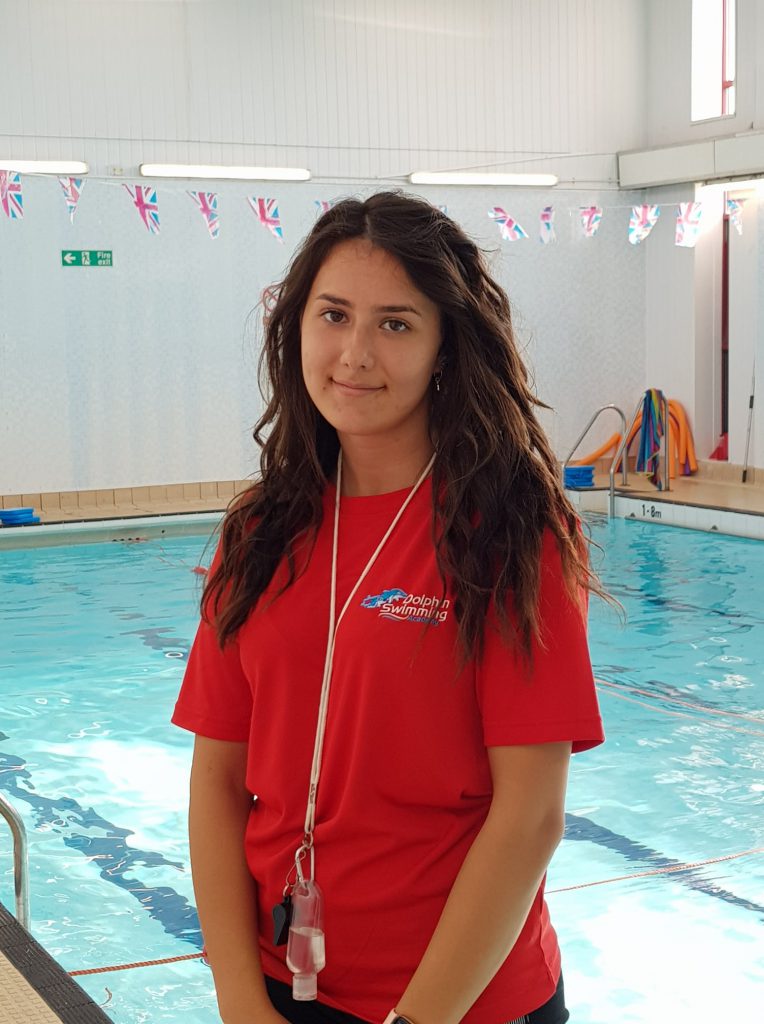 Hi, I'm Madison…… I have been lifeguarding for over two years, throughout a number of the Rhondda Cynon Taff Sports Centres and also privately.
I enjoy fulfilling a role that is responsible for contributing to the safe and welcoming atmosphere that Dolphin Swimming Academy provides for the children to learn and progress within the sport of swimming.
Being a lifeguard has taught me many useful life skills as well as highlighting potential future opportunities. Having witnessed the influence Dolphin Swimming Academy teachers have upon children's progress in swimming, I feel inspired to obtain my swimming teacher qualification one day. I also hope to work towards earning my Beach Lifeguard qualification in the future.
---
Hi, I'm Annabel…… I've been lifeguarding for 4 years. I have always loved swimming and I've competed at club level.
I started my lifeguarding career at the National Lido of Wales where I have worked for the past four seasons.

I am currently in my third year at Cardiff Metropolitan University studying Sports Physical Education and Health.

I'm really excited to be part of the team at Dolphin Swimming Academy!
---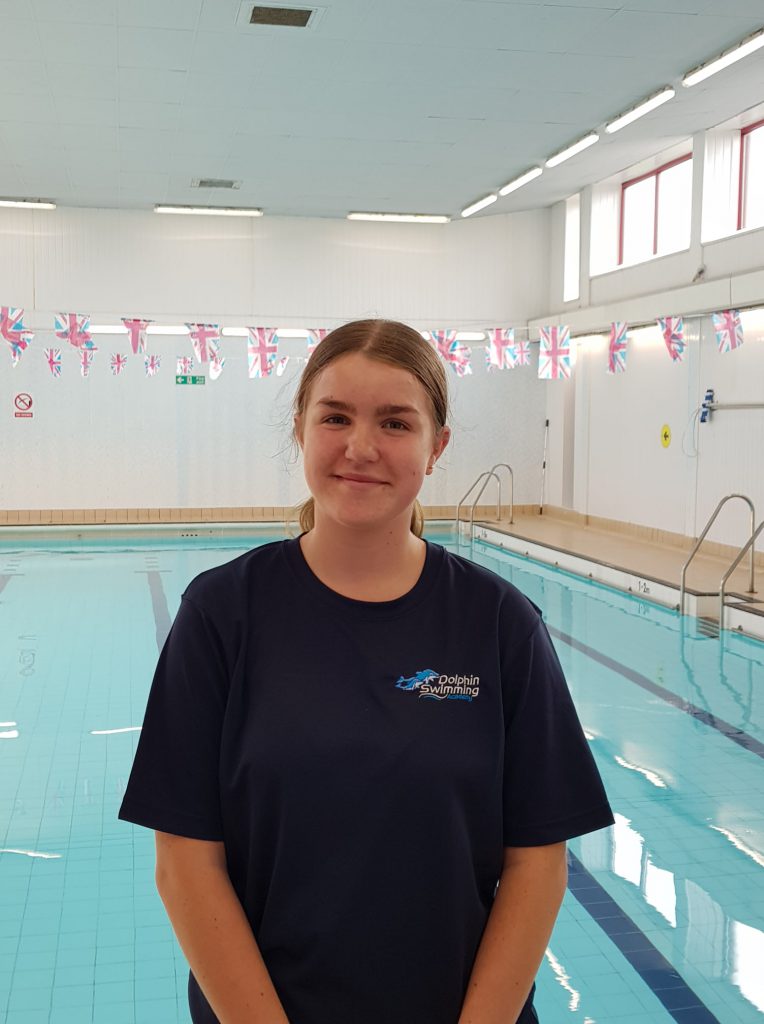 Hi, I'm Abbie…… I have been swimming since the age of 4 and I love being in the water. I loved learning to swim and the journey I went on, and hope to be able to help other children one day. I feel that swimming is such an important life-saving skill that every child should be given the opportunity to learn.

I am really excited about starting to train to become a lifeguard and can't wait till I get fully qualified as a teacher. I am fluent in Welsh so would love to be able to offer bilingual swimming lessons one day.
---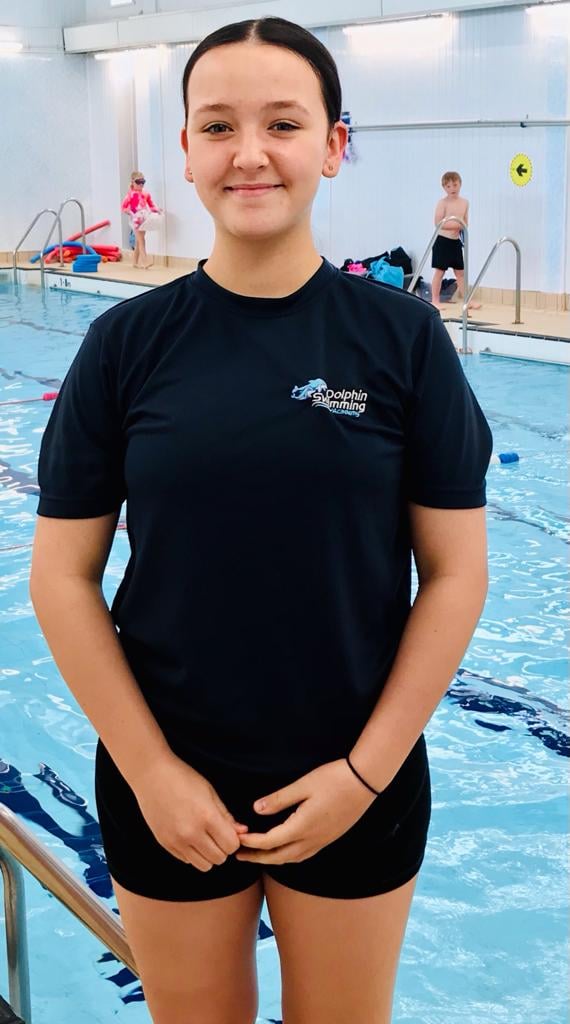 Hi, I'm Celyn…… I've always been drawn and intrigued by sports, having two coaches as parents. Learning to swim at a really young age allowed me to enjoy all of my swimming experiences & my swimming teacher had a huge effect on my enjoyment of the sport. Although I've never competed in the sport I have always really enjoyed visiting my local swimming pool.

I have always enjoyed working with children when I help my mum coach Ice skating. Seeing them achieve their goals and aspirations is such an amazing thing. Now that I have achieved my lifeguarding qualification I'm super excited to be doing my teaching qualification and really looking forward to being able to work with all the children.